Neuropalliative Care Research Webinar Series
The International Neuropalliative Care Society (INPCS) is pleased to announce the continuation of our monthly recurring Neuropalliative Care Research Webinar Series.
Our next event will take place on Wednesday, May 17th at 10am (US-Eastern) where we will be joined by Dr. Heena Manglani, winner of one of the inaugural INPCS Seed Funding Awards. She will present a webinar entitled, "The first year of multiple sclerosis: Identifying predictors of chronic emotional distress in patients and care partners".
Webinar/research description:
Multiple sclerosis (MS) is the most common non-traumatic cause of neurological disability in young adults, with onset at ~32 years of age. The disease cascades symptoms, including weakness, depression, and cognitive dysfunction, which can profoundly impact one's ability to meaningfully engage in work and social activities. As the early 30s are often a period of transition—when people step into careers, build families, and establish their social networks—a diagnosis of MS can trigger emotional distress. Normative worries during adjustment tend to persist, leading to clinically elevated and chronic distress affecting both people with MS (PwMS) and their care partners (e.g., spouses, family members, friends)—the MS dyad. Psychological distress is interdependent between PwMS and care partners, and if unaddressed, may accelerate disease progression leading to greater disability, poorer quality of life, and even mortality. Currently, we do not know: 1) the trajectory of emotional distress among PwMS and their care partners; and 2) the risk and resiliency factors associated with emotional distress, which may be important targets for interventions.
I am conducting a prospective study (target n = 100 PwMS and 100 care partners) to understand the trajectory of emotional distress in MS dyads in the first year of diagnosis. Dyads are enrolled within six months after diagnosis. Both members complete demographic, clinical, and psychosocial (e.g., depression, anxiety, acceptance, mindfulness, coping, social support, etc.) measures at baseline and again six months later. Results from this study will directly inform the development of a dyadic psychosocial intervention to prevent chronic emotional distress in at-risk dyads in the first year of MS. A timely intervention that cultivates long-term resilience in MS dyads will help drive a paradigm shift to early palliative care across chronic illnesses.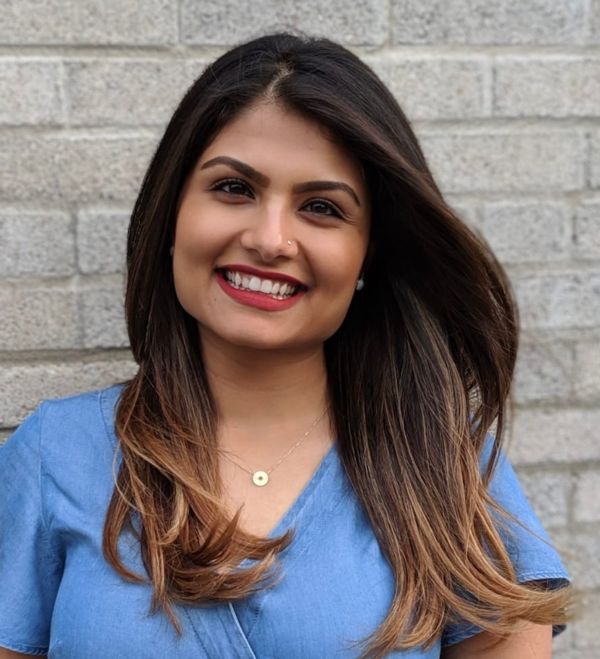 Heena Manglani, Ph.D., is a Postdoctoral Research Fellow in Integrative Medicine at Harvard Medical School and a Clinical Psychology Fellow in Psychiatry at Massachusetts General Hospital. Dr. Manglani's research focuses on improving whole health in people with multiple sclerosis (MS). She is particularly interested in studying ways that mind-body approaches, including mindfulness, diet/nutrition, and mind-body movement (e.g., yoga, qigong), implemented early after diagnosis, can improve long-term disease outcomes. Making and sustaining health-related changes can be challenging when done in isolation. As MS affects both patients and their care partners (e.g., spouses, family members)—together known as MS dyads—Dr. Manglani is interested in better understanding the interrelated factors that contribute to chronic distress. This information will be instrumental in designing a dyadic mind-body intervention to improve patients and their partners' emotional well-being and quality of life. Her ultimate goal is to develop, test, refine, and disseminate a mind-body program to MS dyads within the first year of diagnosis to foster resilience and allow them to live well with MS.

Webinars in the series will consist of a presentation followed by an open Q&A and group discussion, with the webinar lasting an hour in total.
The objective of these one-hour online webinars is to:
Provide both junior and well-established neuropalliative care investigators an opportunity to obtain feedback on research across varying stages of development, from initial idea to funding applications and publications.
While the primary target audience is researchers and health care providers, interested patients and family caregivers are also welcome to attend.
Additional details are described in Frequently Asked Questions or please email info@inpcs.org.
If you would like to be added to our mailing list for notification of future Research Webinars, to suggest topics, or to sign up as a future presenter, please follow this link.
Sincerely,
Darin Zahuranec
Co-Chair, INPCS Research Committee
Zachary Macchi
INPCS Research Webinar Series Coordinator